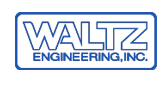 Waltz Engineering strives to be the leader in providing value-added products and services to our customers. Our aim is to create lasting partnerships with our clients and customers by providing excellent service and gaining their trust.
No two facilities are alike. We offer a unique selection of products and professional serivces that can meet your needs, and are unparalleled by any other company. Use our design services to guide your decisions and get the most out of your investment. We can help you analyze your needs and determine the best fit for your requirements, while trying to provide the best quality and value.
Waltz Engineering is family-owned and operated and is officially classified and qualified as a "Woman-Owned & Operated Small Business."